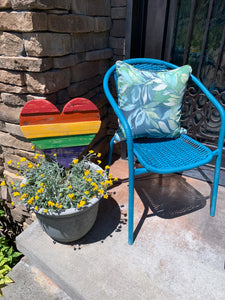 This is a PRE ORDER! Unless otherwise specified, your item will be ready to ship in 2 weeks. The examples shown in the pictures are similar to the item you will receive but not identical.

This outdoor heart is hand crafted using reclaimed wood.  Using a variety of techniques to enhance the wood grain and the whimsy of the piece, each section of the heart is stained to resemble the Pride Flag before being treated with an outdoor sealer so they can be displayed outdoors.  Due to the nature of the materials and construction, all are one of a kind and a natural variation in texture and finish is to be expected and appreciated.  Measurements vary between items.  Excluding the stake, the item measures approximately 15 inches tall.
KnotHead Studios is LGBTQIA ally. We see you, we love you, you are an irreplaceable part of our community.